Sennen Surf Fayre fundraiser for combat veterans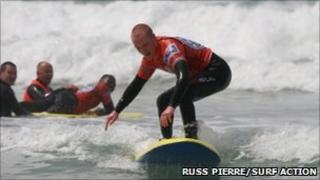 Surfers are lending their support to a Cornish charity that helps rehabilitate traumatised and injured servicemen.
The Surf Fayre at Sennen on Saturday showcased traditional surfboards crafted in Cornwall.
Board shaper Rob Wright said that , despite cheaper imports from abroad, local firms were holding their own.
The money raised is for the Surf Action charity, which uses surfing to help boost the morale, confidence and self esteem of combat veterans.
Positive recovery
Surf Action said surfing helped to create a social network between the children, partners and veterans.
The charity is trying to raise money to create a residential centre for veterans and their families which will provide an environment that allows injured military personnel to feel safe and comfortable, leading to a more positive physical and mental recovery.
Russ Pierre, event organiser and director of Surf Action, said it was the "first event like this held in West Penwith".
He said: "It's an opportunity to show what amazing products the Cornish surfing community has to offer.
"There is so much emphasis on importing from other parts of the world and yet we have some fantastic businesses here in the UK and especially the West Country."