Charity book thefts upset staff in Truro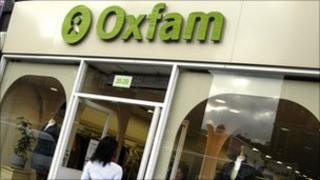 Staff at a Cornish charity shop have said they are upset by the theft of valuable books from its shelves.
Several rare volumes have been stolen from the Oxfam store in Truro.
The latest book to be taken is a copy of Tolkien's Lord of the Rings worth around £150.
The shop receives up to 3,000 second-hand books a week in donations, including valuable, collectable volumes.
The shop's deputy manager, Helen Moss, said discovering stock had been stolen was distressing for the staff.
"It's upsetting, not just because something has been stolen, but £150, with the East Africa crisis, could really make a lot of difference to lives out there."
Staff at the Cornwall Hospice Care charity shop in Truro said they rarely put valuable books on display.
A volunteer, Janice Hoskyns, said: "I think it's the lowest of the low to steal from charity because you never know when you're going to need the charity yourself."
Cornwall Hospice Care said it had decided to sell its most valuable books online only.