Cornish charity criticises bus concession cut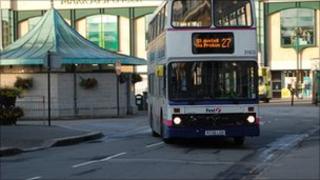 A learning disabilities charity is urging Cornwall Council to offer early morning bus concessions again.
Cornwall People First claimed some of its clients were having to choose between food and getting to their voluntary work or day services.
Cornwall Council said withdrawing all bus pass concessions before 09:30 BST brought it into line with the rest of the country.
A council spokesman said it was looking at solutions for anyone affected.
The charity said one man who cannot afford his bus fare is now walking an hour-and-a-half to get to his day service on time.
Christopher Jordan, a trustee of the charity who also relies on the buses, said: "I do voluntary work in Penzance. I am an hour away. I have to catch a bus before 09:30 to make it worth my while coming down.
"It's the only way I can get around. I hate being stuck at home doing nothing."
'Disgrace' claim
Nigel Walker is a former county councillor who held the adult social care portfolio between 2005 to 2009 and is now an advisor to Cornwall People First.
He said: "Quite frankly it's a disgrace. There must be a simple way to allow the people with learning disabilities to re-claim the cost, or issuing them with a different pass which shows they can travel any time of the day with a concession.
"We're talking about a very small group of people."
Cornwall Council said the change to concessionary fares, brought in earlier this year, was because of central Government cuts.
In July bus companies in Cornwall said routes would be axed if the council did not find a way of funding the shortfall for concessionary bus fares.
Cornwall Council has announced there will be a meeting at County Hall in Truro later this month to look at the issue of the concessionary fare subsidy it pays bus companies, and the threat of cuts and service losses.