Norway polar bear attack: Trip leader's 'worst nightmare'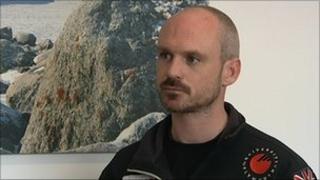 A polar explorer who has led trips to the Arctic region where a British schoolboy was killed by a polar bear says such an attack is an expedition leader's "worst nightmare".
Antony Jinman, from Plymouth, has completed 12 Arctic expeditions and said however, an incident like that was a "really rare occurrence".
Mr Jinman has led expeditions with the British Schools Exploring Society (BSES), which organised the fatal trip.
He told BBC News he knows the "experienced" expedition leaders, 29-year-old Michael "Spike" Reid, from Plymouth, who shot the bear and Andrew Ruck, 27, from Brighton but lives in Edinburgh.
Both men were injured in Friday's attack in which Eton pupil Horatio Chapple, 17, from Wiltshire, died.
Scott Bennell-Smith, 17, from St Mellion in Cornwall and Patrick Flinders, 16, from Jersey, were also injured.
They were amongst a group of 80 young people taking part in the five-week trip on Spitsbergen island, on the Svalbard Peninsula, off Norway.
"BSES is a fantastic organisation and Svalbard is a part of the world that they've been going to for years," Dr Jinman said.
"All of the leaders and young explorers will go through quite an extensive training period before they go on the expedition, including how to use a rifle.
"They do an extensive polar bear awareness course.
"BSES would have done everything possible for the protection of their clients."
He said that polar bears are not the "fluffy animals that are perceived on TV".
"They're beautiful animals but they need respect just like any wild animal," he said.
Mr Jinman said rifles could be used to warn a bear off but shooting one would be the "last resort" and "last line of defence".
"I've done 12 Arctic expeditions and we've seen a total of about 18 bears but I've never had a bear come through the tent," he said.
"This is a really rare occurrence and very tragic.
"The end part of the summer is when bears are naturally hungry because they can't hunt seals, they roam the coastline and pretty much eat anything."