Injured polar bear attack leaders fly back to UK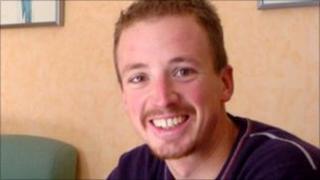 Two leaders of an Arctic expedition injured in a polar bear attack in which a schoolboy member of the group was killed have been flown back to the UK.
Leader Michael "Spike" Reid, 29, from Plymouth, shot the bear dead during Friday's attack.
The trip to Norway's Spitsbergen island was organised by The British Schools Exploring Society (BSES).
It said Mr Reid and Andrew Ruck, 27, from Brighton, had severe injuries but were in a stable condition.
Mr Reid has returned to Plymouth and is being treated at the city's Derriford hospital.
Scott Bennell-Smith, 17, from St Mellion in Cornwall, is also being treated there.
A hospital spokeswoman said that both men were in a stable condition and expected to remain at the hospital overnight.
Patrick Flinders, 16, from Jersey, is in hospital in Southampton.
Eton pupil Horatio Chapple, 17, from Salisbury, died after being mauled by the bear.
The BSES said: "We regret to confirm that [the leaders] injuries remain severe, although they are both stable.
"Everyone involved in BSES remains focused on providing as much support as possible to those affected by the tragic incident on 5 August in Svalbard."
The organisation said the eight uninjured members of the group involved in the incident had already returned to the UK and were with their families.
It said the other members of the expedition were expected to return to the UK on Tuesday.
The bear attack happened on Friday morning when Mr Chapple, Mr Flinders and Mr Bennell-Smith were still in the tent they were sharing at the camp.
Mr Reid's father Peter told the BBC that his son and Mr Ruck had been "viciously attacked" when they went to the aid of the three teenagers.
He said his son had been "fighting for his life" when he shot the bear and had injuries to his face and neck.
Mr Ruck suffered head injuries.
BSES is a youth development charity which organises educational trips to carry out scientific experiments in remote locations.
There were 80 people on the £3,000-a-head trip to Spitsbergen, part of the Svalbard archipelago.
It had been scheduled to run until 28 August.