Cornish village looks at hot rocks heat and power plant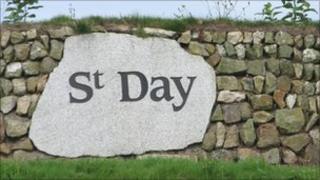 Residents of a west Cornwall village could become the first in the county to have their homes heated by hot rocks five kilometres underground.
Geothermal Engineering Ltd is proposing to build an electricity generator near St Day, Redruth.
Water would be pumped underground, heated by the rocks and the steam used to generate the electricity.
Such schemes are already popular in Europe with cities as big as Stockholm running on single sources of power.
Geothermal Engineering Ltd wants to sink boreholes five kilometres down at United Downs near St Day.
The surplus hot water would then be piped to houses in the village.
'Huge project'
The company said geothermal energy was "good for the environment because it is a renewable source with a minimal footprint and produces low or zero emissions".
Parish councillor Lesley Trotter is a supporter of the scheme.
"It is a huge project but I think it's one worth doing. This is perhaps an infrastructure project we have to do for the future."
Another resident, John Newcombe, said: "It is not going to be cheap. But once the pipe work is paid for the running costs should be pretty low.
"I think it would take a few years before it's going to happen."
Ryan Law, managing director of Geothermal Engineering Ltd, said: "We have to realise what we're proposing to do at United Downs is the first time it's been done in the United Kingdom.
"There's a lot of work to be done to prove that this can work."
Each geothermal plant has a 25-year lifespan before the rocks cool.