Sport survey shows rise in Cornwall fitness activity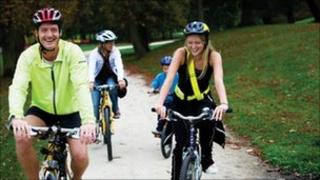 Cornwall is among the most active counties in England, according to new research.
The Active People Survey was carried out by Sport England and then compared with similar data from 2006.
Cornish people are considerably more physically active now and statistically more active than the national average.
Sport England said 104,000 Cornish adults exercise for 30 minutes at least three times a week - an increase of more than 10,000 on the first survey.
Among the most popular forms of exercise were walking, cycling and jogging.
'Healthy and happy'
Cornwall Council said that for the more serious sports enthusiast, the county has about 750 sports clubs and 940 leisure facilities.
Mike Thomas, from the Cornwall Sports Partnership, said the research showed the work by public, private and voluntary organisations to provide more opportunities for people to be active had proved successful.
"It hopefully means that not only are we one of the most active counties, we are also one of the healthiest and happiest," he said.
Matt Lenny, of Public Health NHS Cornwall and Isles of Scilly, said Cornwall had a huge range of activities to off people.
He added: "Who would want to turn down the chance to enjoy themselves, feel better and healthier?"
The range of adults surveyed, who take at least 30 minutes of exercise three times a week, varied by local authority from 7.2% to 22%.
Within that range, Cornwall came in at 16.7%.