Four rescued from fire in block of flats in Camelford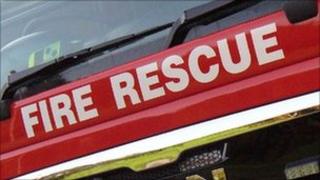 Firefighters have rescued four people following a suspected arson attack at a block of flats in Camelford, Cornwall.
Devon and Cornwall Police said a bag of rubbish was believed to have been set alight outside a door inside the block at about 22:30 BST on Tuesday.
A woman inside escaped and was treated for smoked inhalation along with a male neighbour, who was taken to hospital, and two others.
Police appealed for witnesses to the Mount Camel incident to come forward.
A spokesperson said police were working with the fire service to establish the circumstances of the fire but at this stage it was being treated as arson.