Injured Torpoint boy's parents praise volunteers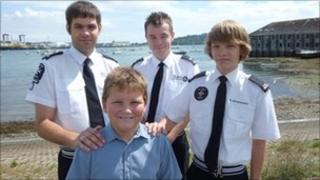 The parents of a boy hurt when he fell of his scooter in Torpoint, Cornwall, have praised the three St John Ambulance volunteers who helped him.
Jacob Girling, 10, fractured his skull in the accident. One of the volunteer first-aiders was only 14 years old.
One of the three, Josh Tack, said he hoped the story would encourage other youngsters to learn first aid.
He said "two out of three people wouldn't know what to do in the situation".
Josh, 17, Ryan Moore, 14, and Anthony Durrell, 20, were providing first aid cover at a football fete in Torpoint when they were informed of an injured child lying in a park.
Josh said: "We came running along after one of our cadets told us a boy had cut his head badly."
They cleaned Jacob up and bandaged his head but decided he needed to be put on oxygen and so waited with him until an ambulance arrived.
Jacob's mum Anne Girling said the volunteers did a fantastic job.
She said: "When I saw him, I obviously saw the blood pouring from the side of his head and he was a bit shaken up.
"It panicked me when he started to be sick".
Ms Girling said the volunteers were "absolutely brilliant" and "kept me calm in the situation".
Jacob's injuries were not serious and he made a full recovery.
He now wants to join St John Ambulance, saying: "I think it will be a perfect end to a perfect story."