Investigations after ship Karin Schepers ran aground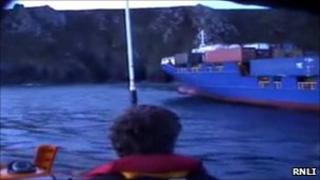 Several investigations are under way following the grounding of a German-owned container ship near Lands End.
The 9,000-tonne Karin Schepers ran aground on a beach east of Pendeen lighthouse, near St Just, on 3 August, coastguards said.
The ship was boarded by inspectors from the UK's Marine Accident Investigation Branch (MAIB) when it docked in Rotterdam.
The MAIB said it would report on the safety aspects of the incident.
Police, RNLI and coastguard search teams were called in to assist when the vessel ran aground.
The vessel, with 13 crew on board, was sailing from Cork in the Republic of Ireland to the Netherlands when the incident happened.
A rescue helicopter from RNAS Culdrose was also sent to the scene.
But by the time it had arrived, the crew of the 141m (463ft) Antigua and Barbuda-registered vessel had managed to get the vessel free from the sand.
The Maritime Coastguard Agency enforcement team is carrying out an investigation to see if any maritime laws were broken.
The ships insurers are also carrying out an inquiry.
The results of a survey of the ship's hull have not been made public but the vessel has continued to trade and has passed the UK twice in the past week.
The MCA and the MAIB say the results of their investigations would be published in due course.