Cattle blamed for damage to Tregeseal stone circle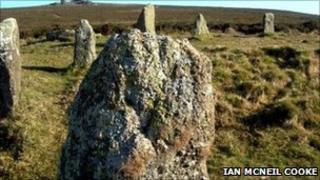 A decision on how best to protect a prehistoric stone circle in Cornwall from damage is expected soon.
There are concerns about stones at the Tregeseal circle in St Just which have become dislodged or loose.
Some people believe they are being damaged by cattle which now graze the area under a Natural England stewardship scheme.
The High Level Stewardship (HSL) began in 2009 and is due to run for 10 years.
Stabilisation sought
Natural England says the aim of HSL is to deliver significant benefits to wildlife, landscapes and the environment in priority areas.
But the campaign group Save Penwith Moors wants the cattle and fencing removed from Carnyorth Common, where the stone circle is.
"This landscape's been used and farmed by generations and it's the first time the common's been enclosed by gates and fencing since the year dot," group spokesman Ian McNeil Cook said.
"We accept there has to be a balance between agriculture and the public, but it seems to be too much in favour of agriculture."
The Tregeseal stone circle dates from the late Neolithic-early Bronze Age - about 2500 to 1500 BC - and is classed as an ancient monument.
Any damage to it makes it the responsibility of English Heritage.
Nick Russell, its ancient monument assistant inspector, has examined the stones and spoken to the interested parties, which also include Cornwall Ancient Sites Protection Network and the Celtic League.
He acknowledges that cattle have been using the stones as "rubbing" posts, but believes other factors such as dry weather causing the ground to shrink, and damage caused by visitors may also have played a role.
Mr Russell told BBC News it was not a straightforward issue, but there had been a "constructive" meeting with interested parties.
"It's a case of coming to a solution which is acceptable to everyone, but more importantly is in the longer term interest of this site," he said.
Although English Heritage had no legal sway and could simply make recommendations on the future of cattle grazing, Mr Russell added he hoped to secure a method of stabilisation for the loosest stones on the site.
Mr McNeil Cook said that would be a welcome move.
"Any repairs to the stones would be excellent - although we would prefer the cause of the damage to be removed," he said.
Mat Carter, Natural England's area manager for Cornwall, Devon and Isles of Scilly, said it would "fully consider" all the recommendations put forward by English Heritage regarding the Tregeseal stone circle.
"However it is too early to say what action will be taken," he added.
English Heritage is due to publish its recommendations by the end of the month.