More than 30,000 watched Red Arrows display in Falmouth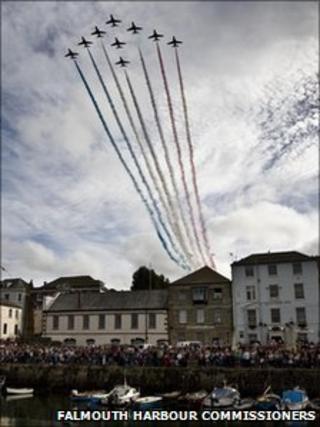 More than 30,000 people watched the Red Arrows display in Falmouth on Wednesday night, officials have said.
Falmouth Harbour Commissioners said they believed thousands more watched from viewpoints around the Carrick Roads.
Last year, hundreds of visitors to the show ended up stranded at Truro railway station because of overcrowded trains.
This year, there were no major transport problems reported to BBC Radio Cornwall.
Prior to the event, transport companies said they had prepared themselves for the additional visitors to the town.
It was the third consecutive year the Red Arrows had displayed over the town during Falmouth Week.