Royal Cornwall Hospital operating safety improvements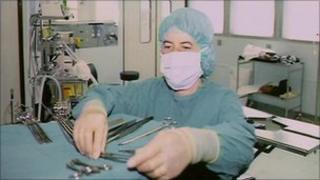 Operating safety procedures have improved at the Royal Cornwall Hospital, the health watchdog has said.
The hospital trust was told earlier this year urgent changes had to be make after its fifth "never event" in its operating theatres within 18 months.
These are serious, preventable incidents which should not happen.
Care Quality Commission (CQC) inspectors recorded "significant" improvements during an unannounced inspection at the hospital in July.
It found important checklists recommended by the World Health Organisation and the National Patient Safety Agency were now being used effectively by the hospital's surgical teams.
Equipment repair
Jo Gibbs, the trust's chief operating officer, welcomed the CQC findings.
"I am proud of the way our staff have responded to the CQC inspection and that their hard work has led to better and safer care for our patients," she said.
"Never events" include such things as surgery carried out on the wrong part of a patient's body, or an instrument being left inside a patient during a procedure.
Following the "never event" in May, a CQC inspection team visited eight operating theatres to watch procedures and speak to clinical staff.
Inspectors said surgical safety checklists were not applied properly or consistently, some equipment was in need of repair or replacement, and there was not always enough skilled staff on duty.
Patients were at risk of receiving inappropriate treatment because information on their operation was inconsistently recorded, they said.
'More to do'
Its report said urgent changes had to be made, or the hospital could have operations halted or the trust could be prosecuted.
When inspectors returned unannounced on 14 July, they observed 12 operations and found surgical safety checks were being carried out in a satisfactory and consistent way.
Unsuitable or damaged equipment had been replaced, staff had undergone training, and monitoring systems had been improved.
Amanda Sherlock, CQC director of operations, said there had been a significant improvement to patient safety.
"I am satisfied that the improvements in education, consistency of approach and communication has created an environment where patient safety is much improved and where best practice can develop."
The trust said that although it had made "good progress" in a number of important areas, it was not complacent.
"We know there is more work to do, but we have shown in the last few months that we are capable of making major improvements to patient care in a short period of time," Ms Gibbs added.