Help for Heroes fraudster Matthew Brown jailed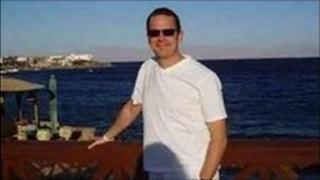 A man who claimed to be raising money for the Help for Heroes armed forces charity has been jailed for fraud.
Matthew Brown, 35, of Telford Road, Inverness, had claimed to be a war veteran walking the British coastline to raise £500,000 for the organisation.
At Truro Crown Court, he was jailed for 16 months for one count of fraud.
After the case, Help for Heroes said Brown had registered with it to collect money but it never received any, adding that such fraud was "unforgivable".
'Despicable' crime
During his attempts to raise money, Brown told the media he was a 41-year-old former Army helicopter pilot who had been blown up by a roadside bomb in Afghanistan and shot at twice by the Taliban.
Brown was arrested at the Pentire Hotel in Newquay, which had offered to put him up for free after hearing of his marathon walk.
The court heard he also took donations from guests.
Iain MacTaggart, who runs the hotel, said: "He has gotten off lightly really hasn't he? It really is a despicable crime.
"It was for a charity which is well-known for raising money for injured servicemen. You think to yourself 'how could anyone do it?' It is awful."
The court also heard Brown had other convictions for fraud.
Help for Heroes - which raises money to support members of the armed forces wounded on active duty - said it registered his intent to raise money on 12 August 2010 for an event to take place on 29 August 2010.
It said: "We have never been able to make contact with Matthew and we have no record of receiving funds from his event."
It added: "That people choose to fraudulently and greedily take funds for their own use - that are given generously by the British public intended to support the wounded - is unforgivable."
Brown is likely to serve half of his sentence because of time already spent in custody.