Skin cancer warning at Newquay's Boardmasters Festival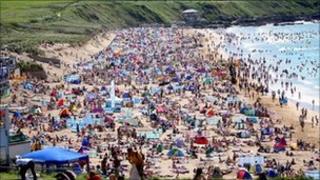 Visitors to Newquay's Boardmasters Festival are being told about the dangers of skin cancer by a pharmacy team at the event.
The staff are highlighting the importance of covering up in the sun and staying safe at the event.
People at the festival are being offered free mole and skin checks, organisers have said.
The festival is held at Fistral Beach and attracts thousands of surfers, skaters and music fans.
In April 2011, Cancer Research UK revealed there had been a tripling in melanoma rates among 15-34-year-olds since the late 1970s.
The charity said the rise was continuing.