Call for learning disability care review in Cornwall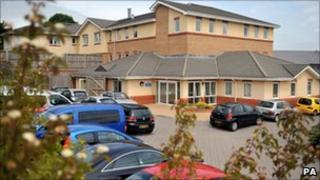 The father of a St Austell man with learning disabilities has said he wants his son back in Cornwall.
Terry Rooney, 29, has been out of the county for five years since being sectioned under the Mental Health Act.
For most of this time he was in Winterbourne View, the Bristol care home at the centre of an abuse scandal.
NHS Cornwall and Cornwall Council said they are developing plans to bring patients back to Cornwall where possible.
The organisations said some people with learning disabilities need specialist care, which means they currently have to leave the county.
Mr Rooney's father, who ia also called Terry, said: "Terry needs to come back to Cornwall. That's exactly where he belongs.
"Terry is not an isolated case. They need to be near to their parents."
For a short time Mr Rooney did come back to Falmouth to a unit called Kryllas Manor until it was closed and he left again.
Reg Broad, from East Cornwall Mencap, said there needed to be a re-think of what is available locally.
"Some sort of service has to be supplied to meet the needs. They need to look at services for people with learning disabilities across the board."
In a joint statement NHS Cornwall, the Partnership Foundation Trust and Cornwall Council said they recognised "it is of paramount importance that people receive care in the most appropriate setting.
"The personal needs of people sometimes mean that they need specialist care outside Cornwall. These decisions are made by clinicians in partnership with the individual and their family or carers.
"We are working to enhance local services, which will in future reduce the number of people who have to receive care outside the county. We are also developing plans to repatriate patients to Cornwall, where possible."