ShelterBox aids Somali refugees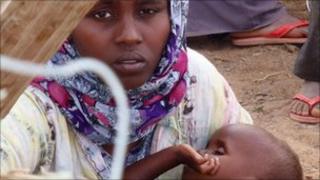 A Cornish charity is playing a crucial role at a refugee camp in Kenya, which is providing shelter for 20,000 Somali refugees.
The Helston-based charity, ShelterBox, is working in partnership with other aid groups.
ShelterBox Response Team member Julia Schaper said: "The situation is desperate for thousands of families living in very bad conditions."
Half of all children in the area are acutely malnourished.
"Driving through the transit areas it became immediately obvious that there is a huge need and we now want to get our tents up and families moved into them as quickly as possible," said Ms Schaper.
Almost 100 ShelterBox tents have already been pitched at the refugee camp.
Ben Spurway, from ShelterBox said: "The situation is very sensitive. We need to work closely with our humanitarian partners to ensure that families have somewhere safe and secure to sleep.
"We have a very strong team and we will do all we can in this time of need."
Each ShelterBox tent can house an extended family, providing them with privacy, a secure living space and shelter from the elements.
Around 12.5 million across the Horn of Africa are affected by the drought and the UN has declared a famine in five areas of southern Somalia.