Islanders shocked at church theft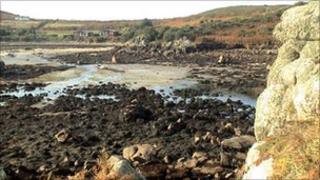 Islanders on Bryher, on the Isles of Scilly, have been left shocked after thefts on the small island.
Thieves ripped the church collection box off the wall and broke into a campsite office.
The Isles of Scilly is regarded as relatively crime-free and most houses and buildings are left unlocked all year round.
Bryher is the smallest of the five inhabited islands of the Isles of Scilly, with under 100 residents.
Police on the island say they are investigating the incidents.
Sergeant Charlie Craig said: "Clearly we have a thief who visited the island over the weekend.
"Being a Monday morning we may get some further reports coming in with people discovering further thefts. We will try to do what we can to bring the offender to justice."
The Anglican Church of All Saints, built in the 1750s is only fifty yards from the quayside on Bryher.