Lifeguards rescue 11 from Chapel Porth rip current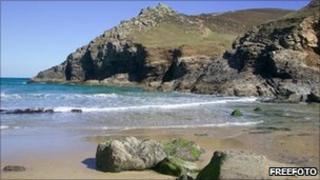 Holidaymakers have praised beach lifeguards who rescued them from a rip current off the Cornish coast.
More than 20 swimmers and bodyboarders were caught in the strong current on Sunday afternoon at Chapel Porth in north Cornwall.
RNLI lifeguards patrolling the beach rescued a total of 11 people, many of them children, who were unable to make it back to shore.
"It was a scary situation," Steve Skelton from Doncaster said.
RNLI beach lifeguard Robin Kent said the group had been extremely frightened and shocked at the strength of the current.
The rescue happened just after 14:30 BST, as the tide was coming in.
'Dramatic' situation
"I first noticed a couple of people starting to struggle and panic as they became aware that they were caught in a rip current," he said.
"As I went to help them, more people were getting pulled out in the same very strong rip current to the right side of the red and yellow flags."
Lifeguards Ralph Gifford and Tom Noon joined the rescue in "extremely difficult conditions", as did off duty lifeguard Steve Bunt.
"Twenty people were initially in the rip and of them 11 were rescued and eight were in danger of drowning had we not been around," Mr Kent said.
"In my 10 years of lifeguarding, this is easily the most dramatic rescue situations I have been involved in."
Mr Skelton was with his 14-year-old daughter Bethany when they were both caught up in the current.
"Looking back it was a scary situation. I am trying not to think about it - I am a confident swimmer and I found it frightening," he said.
Mr Skelton said as he tried to help his daughter who was struggling against the pull of the current, she was getting pulled further away from him.
"I'd just reached her when the lifeguard came out of nowhere," he said.
"We were all still being dragged backwards, but he calmed her down, pulled her onto the rescue board and took her into shore."
Mr Skelton, who was finally washed back to shore about 300ft (91m) down the beach, praised the lifeguards who prioritised the rescue of children first.
"The lifeguards did a fantastic job. We're always ultra careful and I have always taught the kids to respect the sea, but until you experience something like that you just can't image - I think that's what shocked us the most," he added.
The RNLI has been working with the University of Plymouth to carry out research into the physical characteristics of rip currents, to help develop models to predict when and where rip currents are likely to occur.
Anyone who has experienced a rip current can help supplement the research by taking park in a survey.