Concerns voiced over anti-depressant use in Cornwall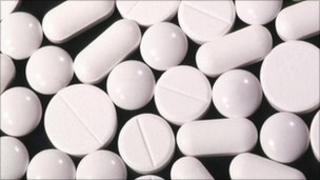 Campaigners in Cornwall are claiming the use of anti-depressants by women and girls is at "crisis point".
Research by charity Platform 51 reveals nearly half of women currently taking them have been doing so for five years or more.
It wants to see a Government review of how they are prescribed and used.
The research reveals more than half of those taking medication were not offered any alternatives at the time of prescription.
Samantha Pashley, the manager of Platform 51's Cornwall branch, said: "We are keen to talk to GPs and commissioners and the children and adolescent mental health service just to look at whether we're offering the young people the best service we can."
Laura, 22, from Truro is a single mother with a two-year-old boy. Her relationship with her adopted parents broke down when she was a teenager and she ended up on anti-depressants. She said they did not work for her.
"I think doctors need to suggest counselling first and then review whether you need medication and then do it alongside counselling."
'Kill myself'
Rosie, 23, from mid-Cornwall suffered abuse as a child and was put on anti-depressants at 13 years old.
She said: "I'd been on them for less than a year and I started having flashbacks to the abuse that had happened. I couldn't understand why the tablets weren't getting rid of them. Subsequently I ended up taking an overdose.
"It wasn't because I wanted to kill myself, it was because I didn't understand why I was given these tablets and they weren't doing what in my mind I thought they were supposed to be doing."
East Cornwall GP Dr Shelagh McCornick argues the use of anti-depressants can prove very successful.
"Anti-depressants work extremely well. You can see a response from people in a matter of weeks. We are there to try and help people feel better.
"Rather than make them wait, it's sometimes appropriate to see if they will respond quickly. Obviously if they don't, you have always got the option of stopping the medication."
The Conservative MP for Truro and Falmouth, Sarah Newton, said a review by the Health Minister Anne Milton is "highly likely".
She said: "We don't really do enough to understand and help support people with mental health problems.
"I think we will get a good response from Anne Milton and we'll work very closely with her."