Hugh Fearnley-Whittingstall thanks crew after sea rescue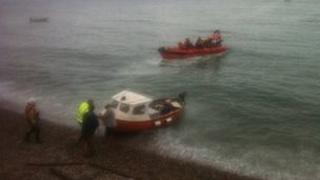 The TV chef Hugh Fearnley-Whittingstall has thanked a lifeboat crew who rescued him and his 10-year-old son Oscar during a fishing trip off Devon.
Mr Fearnley-Whittingstall's boat became trapped on submerged rocks near Sidmouth on Monday.
It was towed to safety by the Sidmouth lifeboat.
Mr Fearnley-Whittingstall, who was uninjured, said he wanted to say "thank you" after getting into a "sticky situation".
Rough seas
The chef said: "I want to say a massive thank you to both the Portland Coastguard and the Sidmouth Lifeboat team.
"We got ourselves into a sticky situation and their response was fantastic.
"It is great to know that when things go wrong at sea we have a brilliant and dedicated team of men and women standing by to make sure incidents and accidents don't become disasters."
Sidmouth Lifeboat, an independent lifeboat organisation, said the lifeboat was called out at 15:56 BST on Monday.
It said Mr Fearnley-Whittingstall's boat had been washed on to rocks near Beer Head and was "balanced precariously" being "buffeted in the surf and taking on water".
Naomi Firth, a member of the crew, swam through rough seas to attach a tow line from the lifeboat to the fishing boat.
Ms Firth, 31, said she was "so busy dealing with the issue" she did not realise who Mr Fearnley-Whittingstall was.
She told BBC News: "I recognised his face and thought he was somebody local.
"It wasn't until afterwards that someone told me who he was.
"My first priority was seeing whether anyone was hurt and it was a case of getting them out.
"The tide was coming in, it was quite precarious."
'Shaken but uninjured'
Ms Firth, who has been a volunteer member of Sidmouth lifeboat for nearly two years, said it was the first time she had swum to a boat to attach a line and "it was hard work".
She stayed on board the boat with Mr Fearnley-Whittingstall and his son while it was towed to Beer Beach.
Sidmouth Lifeboat said they were "shaken but uninjured" in the incident.
It said he was "well prepared" for the fishing trip and it was unfortunate the boat had become trapped.
Mr Fearnley-Whittingstall is the chef behind the River Cottage farm and restaurant in Dorset.
He recently led a campaign calling for the European Union to end the practice of discarding fish - whereby dead fish are thrown back into the sea by fishermen to satisfy EU quotas.