Workers to set up new day centre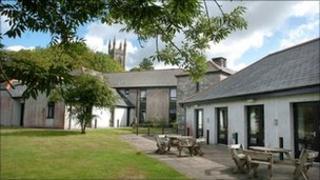 Three care workers are using their own money to replace a day centre for disabled people which is due to close in mid-Cornwall.
They are using £3,000 to launch a new project at Par Moor near St Austell in mid Cornwall.
Charity Vitalise announced last week it was pulling out of the Churchtown Centre at Lanlivery.
The new centre, to be called the Mid Cornwall Hub, will provide day services for four days a week.
One of the founders, Jo Lovatt, said the centre was being launched because so many people were disappointed at losing the Churchtown services.
"It was devastation. Absolute devastation. There are people who have been using that service for many years.
"Services in Cornwall are limited. There wasn't really another service they could access like this."
Ms Lovatt said she hoped the new centre would offer something for everyone.
"We want to create a refreshed day centre. We want to encourage people to be individual and tap into what they want to do and to facilitate that."
Last week Vitalise said the lease on the centre at Churchtown, Lanlivery was due to end in September.
It had decided "with regret" to focus its services on its three other UK centres in Hampshire, Essex and Merseyside.
The Par Moor centre will open on 12 September, immediately after Vitalise's Churchtown services are due to end.