Hand-cycling paraplegic raises money for charity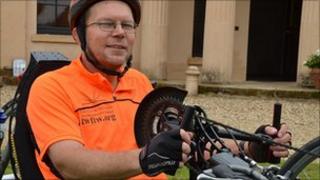 A fundraiser has hand-cycled through Cornwall in a bid to raise funds for bible translation and literacy projects in Africa, India and Eastern Europe.
Barry Funnell, 48, is a paraplegic who is hand-cycling 1000 miles to John O'Groats.
Mr Funnell has been a paraplegic for nearly 29 years.
He said: "Cycling 1000 miles by hand is pretty tough, but so is not being able to read."
"I had an accident 28 years ago. I fell from a three-storey building and landed on my back and broke it. I am completely paralyzed from the chest down.
Due to Mr Funnell's work, more than 50 literacy centres are now operating in Malawi. They teach hundreds of Sena people each year to read and write.
During his 10 year stint in Malawi as a bible translator, Mr Funnell suffered several bouts of Malaria enduring severe kidney damage due to the disease.
He then worked in Tanzania for five years, starting a further ten language development and translation projects.
Mr Funnell only recently took up hand-cycling. He believes cycling up long steep inclines by hand is the hardest he has ever worked.
He is raising funds for The Word of the World (TWFTW) charity which is celebrating its 30th anniversary.
TWFTW partners with others to print and distribute the newly translated Scripture, and promote literacy and Scripture engagement where needed.