Bravery award for Bodmin child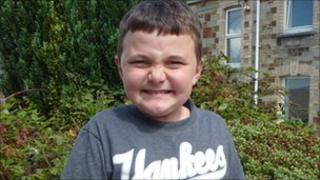 A young boy from Cornwall is to receive a national award for bravery.
Cavan Hoey, aged eight, from Bodmin, has rare blood and genetic disorders.
He has undergone months of hospital treatment including surgery, chemotherapy and a bone marrow transplant.
The charity, WellChild, has named the youngster as its bravest child of the year in his age group. Cavan will receive his award later this month.
Three years ago it was thought Cavan had glandular fever.
But his condition deteriorated before his other conditions were diagnosed.
He has had seizures, suffered brain damage and at one stage was given 48 hours to live.
His mother, Debbie, said: "Cavan has had two rare disorders and the treatment that followed included a huge amount of chemotherapy and operations.
"Now he's full of mischief. He's getting there now. His mobility is OK. He's always going to be on medication."
The WellChild charity said Cavan was picked from hundreds of nominations to win the title of bravest child in his age group.
The judges said they were "deeply moved by his courage".
Cavan was nominated by his sister Maeve. He will receive his award at a London hotel on 31 August in a ceremony hosted by BBC presenter Chris Hollins.