Cornwall Council's bus funding cut plan 'threat to all'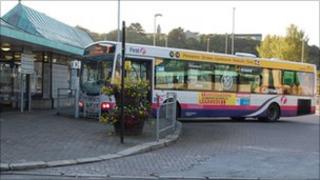 Bus operators and user groups fear thousands of people will be affected if Cornwall Council reduces its funding to operators.
Bus companies were discussing proposed cuts to subsidies for concessionary passes at a meeting in County Hall.
Operators have said services will have to be axed if the cuts are made.
Cornwall Council said it was working to find a compromise after a reduction in government funds. It said it was short by £2.2m in paying for the scheme.
Mark Howard, managing director of Western Greyhound, said: "The local authorities pay out 73.5% of what we should be getting from a normal passenger.
"They're suggesting that that will reduce to 44% - that is a 30% reduction - half of our business is concessionary card-holders.
"It's affecting everyone, it's affecting 250,000 people a week going about their day-to-day business, that's what needs to be prioritised."
'Lifeline' threatened
First Bus said it still could not rule out withdrawing completely from Cornwall.
Rebecca Shearing, manager of West Cornwall Community Wheels, said if the cuts were made, the service could close.
"The elderly and disabled are the most vulnerable people - it'll take away their lifeline," she said.
Head of transportation at Cornwall Council Nigel Blackler said: "It [the meeting] was a good opportunity for Cornwall Council members to hear first hand what the potential impacts could be.
"If you don't find the saving here, clearly another front-line service will be cut and that's the challenge Cornwall Council has."
The evidence from the meeting will be published in a report and then go to a scrutiny committee in early September.