Traders in Newquay feel the pinch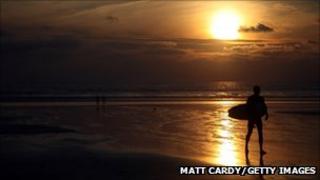 A number of holiday-related businesses in Newquay are up for sale this summer.
Many owners said they were suffering because tourists are being careful with what they spend.
Traders claim many holiday makers are exchanging the traditional two-week summer holiday for a weekend stay instead.
One Cornish estate agent, Scott Burridge, has more than 10Newquay businesses currently listed for sale, including hotels and pubs.
Tony Townsend, marketing manager at Newquay's Hotel Victoria, said staff had been working hard to put together profitable packages that would offer good value for people coping with increased bills and economic hardship.
"People want to know how much they're going to spend upfront. They don't want to be left with any extra bills," he said.
David Ball, an estate agent in the town, said: "A lot of my clients say retail is very tough at the moment."
Newquay has always been popular for stag and hen parties, but Jerry Sanders, who runs the Escape Surf Lodge in the town, said it had been his "worst season for years".
"Even the stags seem to be withering away. September is looking like the worst September I have ever had here. From the second week onwards we're pretty much struggling."
Newquay's Mayor, Andy Hannan, who is also a businessman in the town, is adamant it is not all doom and gloom for the resort.
Mr Hannon said: "The Business Improvement District was launched this year. Businesses pay a bit extra on their business rates.
"That money will be spent on events, marketing, and training to improve the businesses in the town."