Treatment success for mini stroke clinics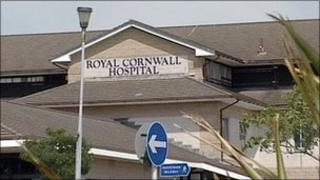 Life saving treatment at Truro's Royal Cornwall Hospital for sufferers of mini-strokes has been praised.
The Royal College of Physicians report puts the hospital in the top 5% in the UK for the speed of its treatment.
This includes treating the first symptoms at stroke clinics to surgery to unblock arteries.
In some places it can take up to 16 days for patients to be treated. At the Royal Cornwall Hospital it is eight days.
Consultant Vascular Surgeon Jonathan Davies said: "The best treatment for stroke is prevention. If we can diagnose and treat mini-strokes early, we can significantly reduce the risk of them going onto to have a major stroke with the potential for permanent disability or even death."
Sue Jenkin from Porkellis in west Cornwall had a mini-stroke and praised her treatment, saying: "I am thankful I am still here."
"On the Monday I was seen by the consultant, Dr Adie, at the clinic at West Cornwall Hospital where I had scans and tests which showed a blockage.
"The hospital called on Tuesday, I was admitted on Thursday and had my operation on Friday."
She added: "I think the teams are absolutely amazing. I can't praise them enough."