Risso's dolphin sighted off coast of Cornwall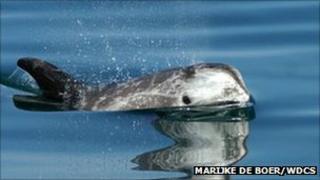 A rare sighting of a Risso's dolphin has been reported off the coast of Cornwall.
The sighting was made by passengers on the Scillonian III, the ferry that travels between the mainland and the Isles of Scilly.
The Risso's dolphin appeared to be with a pod of about 25 common dolphins.
Risso's are identified by their scarred skin, which is caused by other Risso's who use their front teeth when playing and fighting.
Although the species is generally found in deep waters, rather than close to land, Risso's are often seen in waters off Pembrokeshire, the Isle of Man and western Scotland and have also been sighted off Devon and Cornwall.