Helston residents raise concerns over river flooding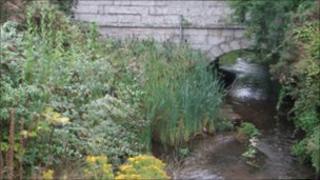 Cornwall Council is to remove the silt from a river in the west of the county to prevent future flooding.
Helston residents have raised concerns about the river Cober, which runs under a bridge in the town on the main A394 Helston to Penzance road.
Brian White, 81, said water flow under two bridges near his home had halved because of silt.
A spokesperson for the Environment Agency said they would monitor the site once the operation had been completed.
Mr White said: "The problem is once the silt builds up there's no rush of water to move it on."
Another resident, John Parsons, said he was worried after watching water levels rise following heavy rains last winter.
Mr Parsons said: "We came over to have a look and there was nothing coming through one side of it and water was building up."