Rare fishing cat leaves Newquay Zoo for Estonia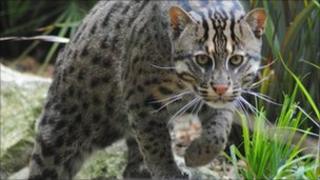 A rare fishing cat, which was bred at a Cornish zoo, is off to Estonia.
Otto the fishing cat is leaving Newquay Zoo to form part of a breeding pair.
Fishing cats are an endangered species of cat from Asia, who challenge the common understanding that all cats hate water.
John Meek, animal collection manager at Newquay Zoo, said: "It is so important for this species that zoos manage to breed their population."
The cats have developed webbed feet and live a semi-aquatic lifestyle.
In the wild they can be found from Northern India to Sri Lanka, Burma and across the Thai peninsular to Java and Sumatra.
They are threatened due to a loss of wetland habitat, water pollution and pesticide poisoning, Newquay zoo said. The zoo added that they were also occasionally hunted for their fur.
The Cornish zoo has been successfully participating in a breeding programme for the species since a breeding pair of fishing cats arrived in 2009.