Council issues tortoise sanctuary with closure order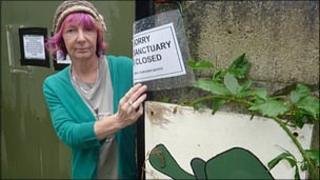 A tortoise sanctuary in mid Cornwall has been issued with a closure order by Cornwall Council.
The council reclassified the attraction in Sticker, St Austell, as a zoo because they said tortoises were "wild" animals, not domestic pets.
Owner Joy Bloor was told to apply for an official licence but is unable to pay the licence costs.
MP for Newquay and St Austell, Stephen Gilbert, said it was "democracy gone absolutely bonkers".
Mr Gilbert said: "The whole issue depends on whether you think a tortoise is normally domesticated in the UK, or not.
"Of course they are normally domesticated within the UK, you don't see tortoises wandering across our fields or walking down the street."
'Blind eye'
Allan Hampshire, the council's Head of Public Health and Protection, said that while the authoriity had sympathy for the situation, it had to uphold the law.
"We can't pick and choose the laws we enforce, whilst it would be easy to overlook this, or to turn a blind eye, we have to uphold a fair and consistent approach to issuing these licences," he said.
Mrs Bloor said the council had "interpreted DEFRA's guidelines to suit themselves and decided they're not pets at all, they are wild animals".
In a statement the council said: "If Mrs Bloor chooses not to apply for a Zoo Licence once the Zoo Closure Notice has been served she will have 28 days to appeal to a magistrates' court before it comes into force.
"This does not, however, mean that Mrs Bloor is required to dispose of the collection - just not open to the public without a zoo licence."
The zoo licence costs £275 for the first four years, but licensees also have to pay fees for government-appointed inspectors when they apply and for any subsequent formal inspections.
Mrs Bloor said the sanctuary was unable to meet the extra costs and already struggled to meet the £25,000 annual cost of caring for and feeding the animals.