Cornwall Council rejects Olympic torch spend criticism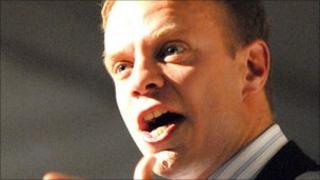 A claim that Cornwall Council is "bonkers" for spending thousands of pounds to promote the Olympic torch relay has been rejected by the council.
Stephen Gilbert, Liberal Democrat MP for St Austell and Newquay, has criticised the council's decision to spend £137,000 on a "one-day event".
He said the money should be used on local projects instead.
But council spokesman Chris Ridges said the event was expected to generate about £7m for the local economy.
The first person carrying the torch for the 2012 London Olympics will set off from Land's End on 19 May next year.
'Modest' outlay
Mr Gilbert said the council intends to spend £17,000 to employ a coordinator and will also spend £75,000 from the "Leader's Contingency Fund" plus a further £50,000 from the Cornwall Development Company to arrange and promote the events of the day.
"It's simply bonkers, bonkers, bonkers for Cornwall Council to throw money around with such a carefree attitude for a one-day event when they are, at the same time, hitting local projects and services with funding cuts," the MP said.
Mr Gilbert said there would be no legacy from the money spent and the council "should be putting the cash into local projects that benefit our communities and help local people".
Mr Gilbert's "no legacy" claim has been rejected by Mr Ridges, cabinet member for economy and regeneration.
"We have a fantastic opportunity to showcase Cornwall to the world," he told BBC News.
"And based on our research, the economic value of the Olympic torch relay could be about £7m so for a relatively modest outlay we should get a huge return.
"What we are trying to achieve is something that will be of long-term benefit to everyone in Cornwall."