Cornwall health trust reveals £2m shortfall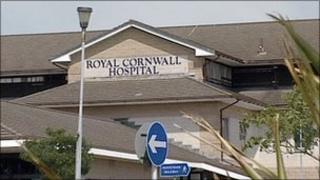 The Royal Cornwall Hospitals NHS Trust is facing a £2m shortfall and if the trend continued some wards could be closed.
The trust said the shortfall had occurred during July.
Director of finance Karl Simkins said the trust received money for each patient it treated and emergency admissions were down.
He insisted patient care would not be affected by the trust's shortfall.
Closing wards was "not necessarily a bad thing if patients were being treated elsewhere" in the NHS, he said.
Mr Simkins added: "The winter months are normally busier and some of the income might be recovered in the second half of the year."
He added that the trust was looking at "controlling costs", and said patient care would not be affected.
The trust is putting its application together to bid for foundation status.
The move gives NHS managers freedom to control their own budgets.