Churchtown centre to continue as Scope steps in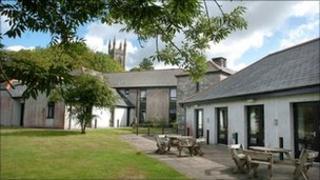 Disability charity Scope has stepped in to run a day centre in Cornwall after another charity announced it could no longer provide the service.
Vitalise said it was pulling out of Churchtown at Lanlivery, near Bodmin, because its lease was expiring and it wanted to refocus on core services.
Scope will take over as the provider of day services on 28 September.
About 70 people with learning and physical disabilities currently use the service.
Vitalise made the decision to transfer its operations at Churchtown to other providers because its 10-year lease on the site was due to expire in September.
The charity also said it wanted to refocus on its core service, the provision of short breaks with care for people with physical disabilities, at its three UK respite break centres.
Ruth Sutherland, director of services for the disability charity Scope, said: "Scope is delighted to be taking over the management of the day service based at Churchtown.
"We have a long history with the site and a commitment to developing excellent services for disabled people in Cornwall, so we were very pleased when Vitalise began to discuss the service's future with us."
The two organisations have worked with Cornwall Council who will pay Scope at the same level as it did Vitalise.
Vitalise chief executive Chris Simmonds said: "Vitalise has been supporting people with disabilities at Churchtown for nearly a decade and we're proud of all we have achieved there, but now regrettably our time is up.
"I am confident that the Churchtown day service will be in safe hands with Scope."
The Mid Cornwall Hub at Par Moor, which was announced earlier this month, will still open on 12 September.