Protests held against proposed east Truro plan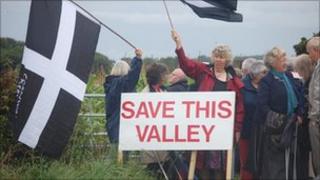 About 50 people have been demonstrating against plans for a new development on the outskirts of Truro.
They are objecting to plans for a Waitrose supermarket, a new park and ride development and a Cornish food hall selling local produce.
They say the development would have a detrimental impact on the landscape, traffic and a local tenant farmer.
One of the partner organisations, Taste of Cornwall, said the scheme was "perfectly balanced".
The Truro Eastern District Centre, on a site near the city's cattle market, is being put forward by Cornwall Council, the Duchy of Cornwall, Waitrose and Taste of Cornwall.
The proposed development would see a small supermarket and a Cornish food hall under one roof. There would also be 98 new homes, community allotments and a household waste recycling centre.
The park and ride facility would have 1,300 spaces.
One of the demonstrators, Pam Dodd, from Probus near Truro, said: "I am very opposed to the building of another out of town development in the form of a supermarket.
"I'm also very worried about the impact of the traffic on the location in general, and the relatively small roads that exist at the moment."
Elwyn Jones, the chairman of the Cornish food group, Taste of Cornwall, said: "If you dig deep into the planning application all the documents are there to show this site is the only viable site for the park and ride for Truro.
"It is from the park and ride that the other developments have flowed. It has to be on this site."
If councillors back the proposal, building work could start early next year.