Truro rainstorm floods flats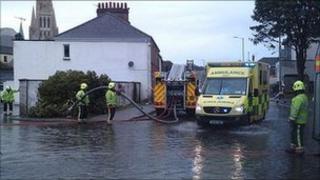 Three ground floor flats have been flooded in Truro after torrential rain.
The premises in St Austell Street were flooded in a downpour at about 13:00 BST.
The street and Trafalgar Roundabout were also flooded. The fire service had pumped water from the roads into a river.
The Met Office said there was a possibility of surface water flooding after it issued a Yellow Warning for the South West on Friday.
Sam Williams, whose property in St Austell Street was flooded, said: "I was outside and it was ankle deep, the next thing I knew it was in the house."
Ms Williams said the water was "pretty deep".
"I almost couldn't see the wheels on my car," she said.