Camborne toy library reopening with volunteers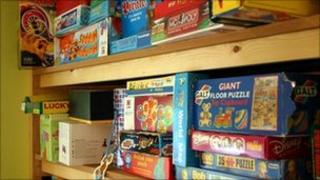 A toy library in Cornwall that was closed after a cut in council funding is being reopened.
The Trevu centre, in Camborne, shut three months ago, despite being used by hundreds of local families.
The nine-year-old service is now being run by volunteers at Camborne Centenary Church.
Church spokesman Don Gardner said it was a valuable part of life for many local families.
"For 500 families to suddenly have the resource taken away from their children in the economic climate we're in here in Camborne would, I think, have absolutely been a disaster," Mr Gardner told BBC News.
The annual cost of joining the new toy library is £3, after which children can borrow toys for up to two weeks for between 20p and 40p.
From next week, 16 volunteers will run the toy library two mornings and one afternoon a week.
Mr Gardner said if more volunteers come forward, the toy library will open more regularly.