College encourages joint co-operative trust initiative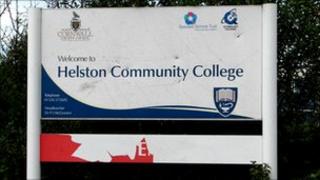 A west Cornwall college is asking thousands of people to back a major change in the county's education system.
Helston Community College has approached about 17 other local schools to join it in a co-operative trust.
The trust would share expertise and resources, as well as owning land and buildings.
Neil Burden, Cornwall Council's member for children, said it was "an excellent initiative" which offered "diversity".
'Exciting opportunity'
Currently the college has foundation status and acquired an educational trust in September 2009, but by becoming a co-operative trust other schools could be welcomed into a more formal, assured partnership.
Head teacher at Helston Community College Dr Pat McGovern said: "It's an exciting opportunity because it will allow us to maintain schools as community-based resources, wholly owned by their local community and responsible to their own community."
Cornwall Council will hand over responsibility to the trust and will consequently only commission services rather than provide them.
He said a co-operative trust meant "officially working with the community".
"The key thing about a co-operative is it's wholly owned by the parents, students, staff, governors, the local authority and the community. It's a publicly-owned asset there for the good of the community."
All decisions would be overseen by a forum - voted for by members of the trust.
More than 70 schools are interested in setting up co-operative trusts.
Dr McGovern said the initiative was far removed from the "government push for academies".
Within a co-operative movement, schools network in groups and institutions interact closely. The trust can appoint either the minority or majority of governors.
'Raise standards'
With conventional sponsored academies, private sponsors appoint the majority of governors to the governing bodies of their schools.
"I've seen no evidence whatsoever that links independence and autonomy to raising standards for children, in fact, quite the reverse," Dr McGovern said.
"All the evidence would point out that it is co-operation through collaboration and partnerships that you raise standards and improve life chances by working together with other organisations."
Chairman of governors Graham Vallender said small primary schools could "really benefit".
The public consultation is due to start next month, with a document being sent out to thousands of potential members.
Mr McGovern hopes the co-operative trust will be up and running by the end of the year.