Broadband training centre opens in Bodmin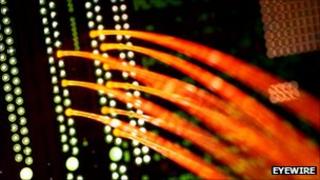 A new superfast broadband training centre is opening in north Cornwall.
The facility, in Bodmin, will train more than 150 young apprentice engineers.
Once the training is complete, the engineers will join those who are already working on Cornwall's £132m superfast broadband initiative.
Chacewater and Blackwater, near Truro, were among the first rural villages in the UK to get the superfast broadband.
In September 2010, British Telecom announced it would provide the service to up to 90% of homes in Cornwall and the Isles of Scilly.
The centre, based in the BT telephone exchange building in Crinnicks Hill, Bodmin, will train engineers as young as 18.
Liv Garfield, chief executive of BT's local network business Openreach, said: "The Superfast Cornwall initiate presents a huge engineering challenge.
"More than 130,000 kilometres of optical fibre will be installed in the Cornwall and Isles of Scilly network.
"In the coming years, engineers will be installing superfast broadband in tens of thousands of local homes and businesses."
One of the apprentices, James Miners, 24, a former broadcast journalist for BBC Radio Cornwall, said: "It's great to be working on the first steps of the next generation network for Cornwall and the Isles of Scilly. It's a very important development for the area."
Superfast Cornwall, a partnership between BT, the European Convergence Programme, Cornwall Council and Cornwall Development Company, expects to make superfast broadband available to between 80 and 90% of homes and businesses in Cornwall and the Isles of Scilly by the end of 2014.