Parents of Sgt Paul Fox praise Wootton Bassett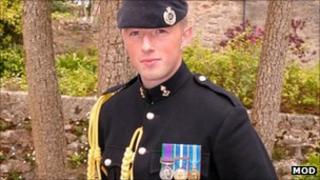 The parents of a Cornish soldier killed in Afghanistan have paid tribute to the people of Wootton Bassett in Wiltshire.
From tonight, military corteges will no longer pass through the town, where hundreds turn out to pay respects to fallen service men and women.
Alex Fox hopes people will still turn out when repatriation flights transfer to RAF Brize Norton from Thursday.
Her son, Sgt Paul Fox, from Nancledra in west Cornwall, was killed in Helmand Province, Afghanistan last year.
He served with the Royal Engineers.
Mrs Fox said: "I think the organisation is tremendous in the town [Wootton Bassett], the dignity and the respect that they have for the families. I think they were just wonderful."
Nearby RAF Lyneham is closing and aircraft will land instead at RAF Brize Norton in Oxfordshire.
Moz Fox, Paul's father, said: "I'm sure Brize Norton will do the same job, and the people of Brize Norton will follow suit."