BBC Introducing: All the Fires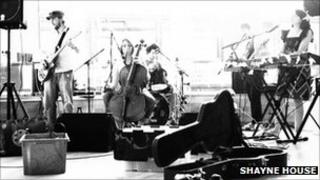 All the Fires are a six-piece band from west of Cornwall who are hoping to soon record their debut album.
The group is lead by two female lead singers, Kathryn and Rosalie, accompanied by musicians, Matthew, Benjamin, Danny and Stu.
The group formed in 2008 and their backgrounds encompass folk, rock, country and classical music.
They claim their lyrics are "spun with imagery of the open sea, dark skies and fleeting birds".
All the Fires have already released an EP, titled The Map - but said "that was with the old line-up so we haven't yet ever recorded with all six of us."
The band use a variety of instruments within their music including; vocals, guitars, piano, cello, bass, drums, mandolin, glockenspiel and melodica.
"We like adding lots of different layers to things, we've got lots of vocals and we just like experimenting with different sounds and different instruments."
"We've been gigging hard and writing and writing loads of new material and we're getting ready to record out album."
This will be the band's debut album and they say they are "very excited about it".
All the Fires have launched the PledgeMusic campaign, "this fantastic mean of getting fans involved in the project."
PledgeMusic provides fans and artists the opportunity to work together to make new records and raise money for charity.
"We've saved up every penny we've made over the last year and a half, with support from fans we are going to get to make the album."
The band would like to make the album in Cornwall.
"There's enough kids and pets and family members that we would like to be around here and it's such an important place for us.
"All our music is inspired by Cornwall so it seems a bit strange to run off and record it somewhere else."