Two Cornish villages are trialling green energy schemes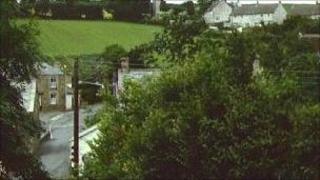 Two villages in mid Cornwall are trialling renewable energy using a £500,000 government grant.
The money has been spent on solar panels and other energy devices at homes and community buildings in Ladock and Grampound Road near Truro.
A number of local residents now receive free electricity and hot water.
The villages received the funding from the government-run Low Carbon Communities Challenge in November 2009.
Chris Jones, from the pro-green energy group Transition Ladock, said rising energy prices had spurred villagers on to become less reliant on oil.
"We could see the peak was very close and that energy prices were just going to increase from now on going forward.
"We're also quite keen to de-carbonise our business as much as we could. It just seemed a natural thing to do."
The Transition community began in Totnes, Devon and said its role was to "inspire, encourage, connect, support and train communities to reduce CO2 emissions".
There are now Transition initiatives in countries such as Australia, Canada, Germany, New Zealand and South Africa.
Transition has given many residents free solar panels, on the understanding that the money they make from selling excess excess energy to the national grid, goes to community initiatives.