Dog survives fall from 50ft hotel balcony in Cornwall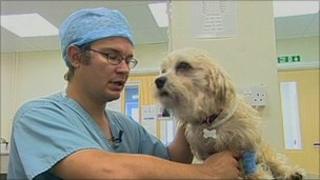 A dog is back on all four feet after surviving a 50ft (15.2m) fall from a hotel balcony in Cornwall.
Dandie dinmont terrier Stanley fell three floors after managing to scale a 4ft (1.2m) barrier at a hotel in Padstow earlier this week.
He fell into a shrubbery, but suffered a broken back and crushed vertebrae.
He is now walking again after undergoing surgery to install a steel plate to secure his spine. Vets said they were pleased with his progress.
Stanley's owners said they did not know how he managed to get over the barrier.
Colin Whiting, of the Penmellyn Veterinary Group, said: "He wasn't really able to feel his back after the fall, and his tail wasn't moving.
"But he started to move around within three hours after surgery.
"It was bit of a roller-coaster for his owners, but they are pleased he is doing so well."
Stanley would be able to walk long distances properly within about six weeks, Mr Whiting added.