Cornish Gorsedd ceremony to welcome 15 new bards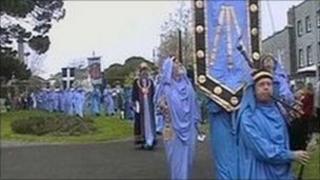 The initiation of 15 Cornish bards will happen at a special ceremony on Saturday.
The event will be held in Helston. New bards are honoured for their contributions to Cornwall and its ancient culture, history and language.
The Cornish Gorsedd, called Gorseth Kernow in Cornish, was formed to uphold the county's Celtic traditions.
About 200 bards from other Celtic regions including Wales and Brittany are expected to attend.
The main ceremony will be performed in a circle on Penrose Amenity Area.
There are believed to be about 500 Cornish bards across the world.