ShelterBox gives thousands of tents to Somali refugees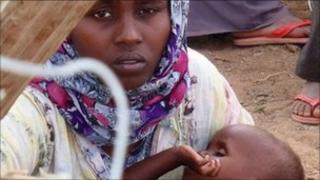 A Cornish charity has provided more than 4,500 tents to refugee families in Kenya.
ShelterBox is helping some of the thousands who have fled the conflict and drought in neighbouring Somalia.
The Helston-based charity has pitched nearly 3,000 ShelterBox tents in a refugee camp in Dadaab, Kenya.
The charity said the response team, who were in the country, were erecting tents and ensuring there was adequate water and sanitary facilities.
About 12.5 million people across the Horn of Africa are affected by the drought.
In August, the UN declared a famine in five areas of southern Somalia.
The charity is working in partnership with other aid groups in the region.
A ShelterBox spokesperson said the Dadaab camp was designed for 90,000 people, but now hosts a population of about 440,000 refugees.