Food plea to Cornwall's supermarket owners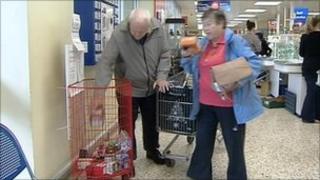 Nine supermarkets in Cornwall have been approached by supporters of the county's Foodbank scheme.
The Bishop of Truro, with leading councillors, has written to traders asking for boxes to be placed in the shops, so customers can donate food.
One in five children live below the poverty line in Cornwall according to the council.
Tokens are given to those in need so they can get food for three days.
Tim Thornton, the Bishop of Truro, said: "Clearly it's never a nice place to be to have to ask for help, particularly to have to ask for food. It shows you what the need is.
"It's a very sad sign of our times that in a place like Cornwall there is real deprivation. It is now hitting hard in Cornwall."
Armand Toms, the councillor in charge of adult care and support, said they had not yet received a response from the supermarkets.
Mr Toms said: "It's been just over a week, so we'll wait. We've gone to the senior directors to say this is a big problem in Cornwall, and can you help us. If you don't try you will never know."
A Tesco store in Truro already invites shoppers to give what they can to Foodbank.