Cousin's continuing sadness for 9/11 hero Rick Rescorla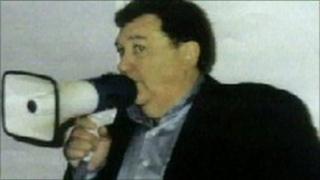 The cousin of a 9/11 Cornish hero who died in the Twin Towers, has spoken of his continuing sadness and pride at what his relative did that day.
Rick Rescorla, 62, originally from Hayle, died helping lead 2,700 people to safety from the World Trade Centre's South Tower.
He was head of security for banking firm Morgan Stanley Dean Witter.
His cousin, Jon Daniels, said his "stomach still churns" at the sight of the towers going down.
Mr Rescorla sang Cornish songs to keep up the spirits of those around him while making sure they left the south tower after it was hit by one of the hijacked airliner.
Mr Daniels, a former pub landlord who still lives in Hayle, where Mr Rescorla was born and grew up, remembers all too well the events of that day, which he said are brought home again with every anniversary.
'Very proud'
"You learn to live with it, what happened," he said.
"Your stomach still churns when you see the towers go down. It is alive in the memory but it is brought back when you see it replayed."
Mr Rescorla, who became a US citizen in the 1960s and was decorated during service in the Vietnam War, is said to have foreseen the attacks, with his warnings featuring in a Channel 4 documentary in 2005 entitled, The Man Who Predicted 9/11.
He made staff at the bank regularly practice escape drills which later saved their lives.
He was last seen going back up the stairs of the tower looking for stragglers.
"I'm very proud of Rick. That was just the way he was, prepared for any eventuality and looking after other people," Mr Daniels said.
"He would always be the last person out and make sure everyone else got out safely."
The main event in the UK to commemorate the landmark anniversary will be the ceremony at London's September 11 memorial garden, which was opened by the Princess Royal in 2003.
In New York there will be a concert at the British Memorial Garden site in Hanover Square, just half a mile from Ground Zero which commemorates the 67 UK victims.