Rise in rough sleepers 'expected' says Cornwall Council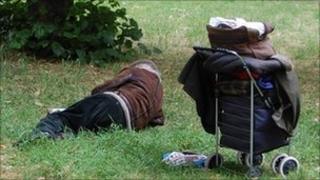 The number of people sleeping rough in Cornwall has risen, according to figures released by Cornwall Council.
A county-wide survey carried out during May and June revealed 88 people who had have slept outside for more than a week - 12 more than the previous autumn.
But the council said the rise was, in part, due to an improvement in the way information was collected.
It said the geographical spread of the most recent survey had been increased to include east Cornwall.
The "self-assessment" survey asked people who access services at day centres, homeless projects, soup kitchens and One Stop Shops to complete a short questionnaire about their housing status.
'Increase expected'
The most recent survey was conducted over a period of four weeks, rather than on one night.
Jane Barlow, head of housing at the council, said the increase in numbers had been expected.
"We have improved the scope of the survey to include the whole of Cornwall, refined the methodology to ask more questions about people's connection to Cornwall (or not) as well as a specific question about how long they have slept rough," she said.
The council said it was taking the issue seriously and would target those most at risk.