Cornwall Council's bus concession changes discussed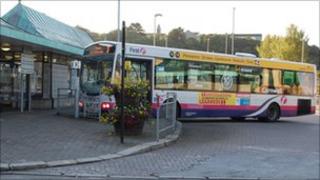 Changes to bus services are to be debated again by Cornwall Council.
One of the main recommendations is to reduce the concessionary travel subsidy from 73.5% to 50%.
Although it is better than the initial proposal of 43.9%, bus operators have said it is not enough and will put bus routes under threat.
Council Leader Alec Robertson said reviewing the entire network would help to ensure services were provided where they were most needed.
Bus operators and user groups have said thousands of people across Cornwall will be affected if the proposals are implemented by the council.
Mark Howard, managing director of Western Greyhound, said half its passengers were concessionary card holders.
Concerns have also been raised about community-based transport schemes, and the council has proposed looking at new ways to fund them which will make them independent of concessionary fares.
Tim Wood, assistant head of transportation, said: "In recognition of the major role that concessionary fares have played, Cornwall Council will be considering a proposal to re-tender all of the supported bus journeys on the bus network."
The council currently provides support for about 60% of bus journeys in the county.