Villagers to see heliport plans for west Cornwall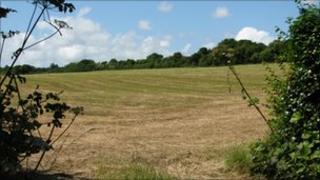 People living near the site earmarked for a new heliport in west Cornwall will be able see the detailed plans.
The plans are on display in the village hall at St Erth near Penzance.
British International Helicopters has said it must sell the present heliport in Penzance to Sainsbury's if they are to survive as a business.
The company said they needed the millions they would earn to buy new aircraft, which would allow them to bid for new business.
BIH has been looking for a replacement heliport for a while and has decided on a field near St Erth.
A planning application for the proposed heliport will be submitted at the end of this month.
Noise concerns
BIH's plans have aroused concern with some villagers. They are worried about the noise and pollution from the helicopters as they fly to and from St Mary's on the Isles of Scilly.
Bridget Rickard, a parish councillor in the village, said: "I am completely appalled by the whole thing. This is going to be on a daily basis. They are going to be flying 24 times a day, within a mile of our village. It's going to affect all our lives."
However, others feel the link with Scilly is vital and they are prepared to try to get used to the change.
Do Harry, chair of the St Erth parish council, said: "On the whole I think the heliport would be in the right place.
"I have seen the flight plan for the helicopter and I don't think it will really affect the village, only when it's very windy."
Interest will centre on the plans for the buildings on the heliport as well as the proposed flight paths for the aircraft.
The planning application for Sainsbury's on BIH's current site will be decided by Cornwall Council later this month.
Tony Jones, managing director of British International Helicopters, said: "The whole purpose of inviting the community to come and see what our proposals are is to hear what they have got to say, and then potentially modify the plans that go before Cornwall Council, which we are going to submit by the end of this month."
The exhibition starts at midday at the parish hall in St Erth and runs for two days.